SOLUTIONS »
Secure
No one does it like the Cybermaniacs. Imagine this; Our award winning creative & cyber team working closely with your team to ignite & accelerate your efforts. We partner with our customers to help shape, plan, build, and run their cyber culture & awareness programs. It's pretty cool TBH.
Deliver brilliant, bold, and beautiful experiences for your people
Program Support
We work with enterprises to help them build, run, and mature their cyber education, culture, and human risk programs.
Bespoke Offerings
Our bespoke team builds the best of custom courses, films, events, and more to help you keep cyber top of mind.
Events & Keynotes
Cybermaniacs has a long history of powerful keynotes, new ideas for events, to creating ridiculous and fun immersive experiences.
Your Cyber Culture Program,
With Our Punch

Our team is your team. And together we can create world class human cyber strategy and content that is unlike anything your company has seen before. And we can prove it.
Create Believers with Bespoke
Let us help you plan, create, and deliver our modern approach to learning that is aligned to your priorities, your brand, and your culture
Bespoke Film
We produce powerful, snappy, interesting videos for your program. The possibilities are legitimately endless for our creative and production team.
Custom Courses
Our custom courses are unlike anything available today. We can also help you both map and measure custom your unique learning objectives.
Killer Content Assets
Our in-house creative and content team can produce content that is on par with the best media and marketing companies.
Build a Plan, Run a Program
With a little help from your friends at the Cybermaniacs. We can help you just a little or a whole lot with your cyber culture and awareness program.

Vision, Strategy, Planning
Get started on a new plan or update your current plan. We work with customers to develop modern culture, awareness, and human risk mitigation programs that are manageable and measurable.
Map Audiences & Skills
It is imperative that you identify, understand, and map your key audiences as well as the skills that each need to acquire and retain. We can accelerate and bring rigor to your program with this effort.
Quarterly Workshops
For customers who want to ensure that their program remains on track and also want new, fresh ideas to keep things interesting. We can be an extension of your team to ensure you make the desired impact.
Comms & Campaigns
Getting the right content, to the right people, in the right way, at the right time is no easy task. So we help to work through these questions to build campaigns across your available channels and tools.
We bring your Vision to Life.
Events, Keynotes, and Schwag
From Fun to Fuzzy to Serious. From virtual, to physical, we got you covered.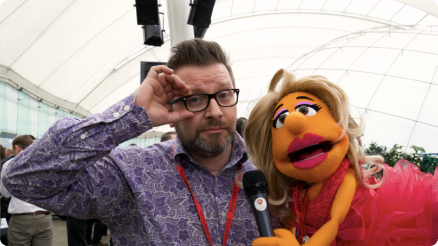 Bring on the Fuzz!
A little known fact about our passionate and provocative puppet crew is that they love international travel just as much as mixing it up at events. From interviewing executives, to stage performances, to chatting with people at cocktail hours... we can make your events powerful and memorable. We can also film the entire thing and produce content that can be used for years on end.
Keynotes, Webinars, Interviews
We are also able to bring profound value to events, webinars, and interviews. Our Team and our Founder are the best and brightest in the Human Risk and Cyber Culture & Awareness Industry. And because we have our own content production team in-house, we can film and or record all engagements to then be repurposed, packaged, and distributed over time.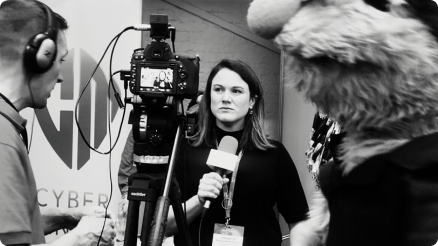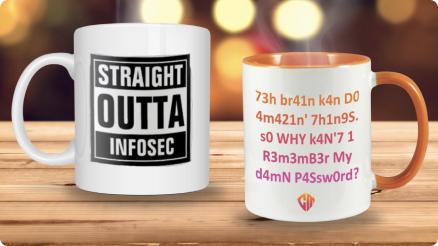 Games, Merchandise, Mosh Pits
Kidding about the mosh pits. But, we are able to work with our team and our partners to create unique, fun, and memorable experiences for your people. From trivia games, to coasters, to posters, to cyber lobster races... nothing is off limits. Let us help you plan, organize, and fulfill right at the edge where serious meets sensational.
We actually take the time to understand your needs:
What is working today? What needs to be improved?
Learn about your organization and requirements.
Explore Cybermaniacs Learning Experience & Content.
Discuss other business needs to drive your cyber culture.